No reservations needed for summer rec and lap swims at Burlington outdoor pools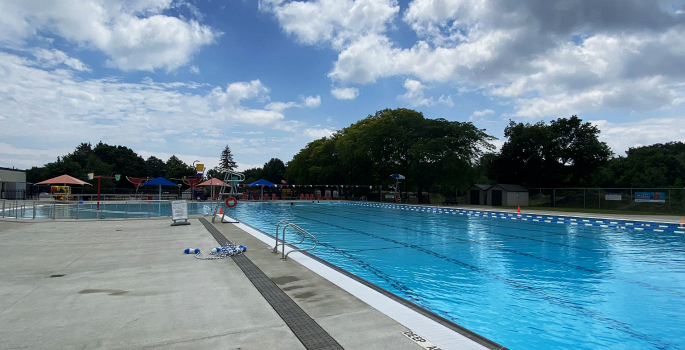 This summer, swimming at Burlington outdoor pools will be walk-in only based on first come, first served where larger capacities can accommodate many of our residents. With the exception of Aquafit, online reservation is no longer needed or available for outdoor pools. This is a welcome return to pre-Covid service to our outdoor pools.
This summer there will be a return to normal programming hours at all pool facilities. This includes longer swim times for Fun Swims and additional Lap Swim opportunities at the outdoor pools.
Payment for walk-ins will be taken at time of entry.
| | | |
| --- | --- | --- |
| Activity | Outdoor Pool | Indoor Pool |
| Recreational Swim, Lap Swim | Walk in | Walk-in and reserve ahead options |
| Aquafit | Walk-in and reserve ahead | Walk-in and reserve ahead options |
During warmer weather days, free swims or holidays, outdoor pools may reach maximum capacities which may result in wait times to enter the pool.
Online reservations for all swims except Leisure and Fun swims can be done seven days plus two hours in advance. Leisure and Fun swims can be reserved seven days in advance.
Swim Schedules
For all swim schedules and to reserve online where applicable, visit burlington.ca/dropinandplay.
Swim Passes
Yearly recreational swim and lap swim passes are back in addition to our affordable summer passes. There are different recreational pass options available to provide the best value for swimmers looking to participate regularly.
To view and purchase the passes, visit burlington.ca/passes.
Outdoor Pools
Nelson Pool (4235 New St.) will be opening June 3 with a modified schedule of select weekday morning and weekends until daily programming starts on July 1. The Nelson Splash Park will be available Monday to Friday from 4 to 7 p.m. from June 5 to June 30.
Splash Park users can enter through the side gate off the parking lot. The building will be open for washroom use and use of the lobby.
LaSalle Wading Pool and Splash Park (50 North Shore Blvd.) will be opening on June 17, with modified hours of 12:30 to 4 p.m. until June 30 when daily programming begins.
Mountainside Pool and Splash Park's (2205 Mount Forest Dr.) revitalization will be completed in time for the summer. Reopening plans will be announced soon.
For more information on all the City's swimming programs, pools and splashpads, visit burlington.ca/swimming.
Burlington is a city where people, nature and businesses thrive. Sign up to learn more about Burlington at burlington.ca/subscribe and follow @CityBurlington on social media.
Quote
Renee Kulinski-McCann
"By moving to walk-in only for our outdoor pools, people can stay and swim or play all day. For those who prefer a little more structure and assurances, our indoor pools will accept online reservations. Either way, there are lots of great swimming opportunities this summer."
Links and Resources
www.burlington.ca/dropinandplay
-30-