Launched by Mayor Marianne Meed Ward in 2019, the Key to the City program at the City of Burlington honours individuals and organizations who have made significant contributions to our community.
Following in the footsteps of many other cities, Burlington feels the need to recognize the people whose hard work, talent, efforts and passion make our city a better place to live.
Whether it be through sport, philanthropy, business, arts & culture, volunteering, advocacy or leadership, the recipients of a Key to the City will have created a unique and meaningful legacy that will positively impact our community for years to come. Keys may also be given to visiting dignitaries or in recognition of our twin city relationships.
There is no formal nomination process, and names under consideration are not made public as there are many worthy recipients each year. Residents can suggest deserving recipients through their Ward Councillor, or the Mayor's Office. The recipients of the Key to the City are announced publicly after the decision has been made to award them the Key.
---
The Key to the City was designed and created by Burlington resident, fine art stained glass artist, Teresa Seaton. Her uniquely sculptural work incorporates elements of Burlington's natural landscape, City crest, and the clock that sits in front of City hall.
Key to the City Recipients
Future recipients will be announced by the Mayor as they arise, and align with the criteria listed above.
Beverly Kingdon - July 2023
Beverly Kingdon has been a volunteer in conservation work for more than 40 years, and a driving force behind the creation of the Trumpeter Swan Restoration Group.
Trumpeter swans were nearly hunted out of existence in Ontario by the late 1800s and re-introduced into the province in the 1980s. Beverly has said she initially became involved in this volunteer work because of her love of swans, and it gave her an opportunity to give something back to the Burlington community. Thankfully, our community has seen the return of the Trumpeter swan population to LaSalle Park – where they winter and thrive.
Of note, in 2022, Bird Friendly Hamilton Burlington announced the Trumpeter swan was selected by popular demand as Burlington's unofficial city bird.
Beverly's efforts have ensured our city's unofficial bird has a haven in Burlington for generations to come.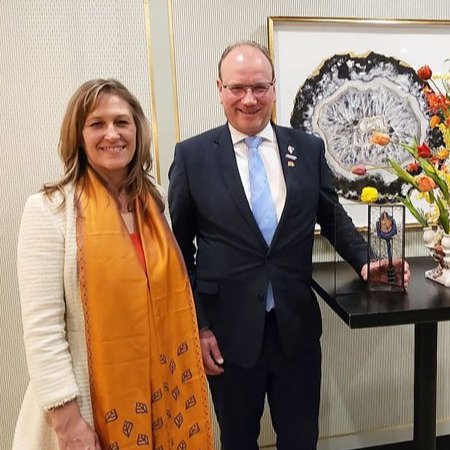 City of Apeldoorn, The Netherlands
May 2023 Award Citation
In May 2023, in recognition of the 18th anniversary of the twinning agreement between the cities of Burlington and Apeldoorn, The Netherlands, Mayor Marianne Meed Ward presented Apeldoorn Mayor Ton Heerts and the City of Apeldoorn, The Netherlands with Burlington's Key to the City.
The presentation was made during a trip by an Official Apeldoorn Delegation to the City of Burlington in May 2023. As part of the dual exchanges that occur in the twinning relationship, both cities send reciprocal official delegations to each other every five years as a way of fostering world peace and global understanding.
The City of Burlington has a special connection with Apeldoorn – The Royal Canadian Regiment took part in the liberation of Apeldoorn in April 1945 during the Second World War. Now, Apeldoorn is one of The Netherlands' most progressive cities in terms of sustainable and responsible development. Apeldoorn's commitment to sustainability, its similar size to Burlington and its strong historic connections with Burlington's veterans make it an ideal twinning partner.
Burlington Teen Tour Band
July 2022 Award Citation
The Burlington Teen Tour Band (BTTB), our city's global musical ambassadors, marks its 75th anniversary in 2022. Their first performance was on Dec. 15, 1947 and they were known as the Burlington Boys and Girls Band. Since then, the band has had many major achievements, many 'firsts', prestigious awards and successful tours around the world where they have mesmerized their audiences. Over the past 75 years, BTTB has grown to become Canada's oldest and largest youth marching band — competing in internationally-scaled competitions and returning as champions and first-prize winners. They have represented Burlington while performing in five provinces across the country and represented Canada on the world stage, performing for Heads of State and Royalty (as well as on TV and in movies) in eight countries — such as Itabashi, Japan to mark the 20th and 30th anniversaries of the twin-city relationship between Burlington and Itabashi. BTTB is the first foreign band to have been allowed to perform underneath the Arc de Triomphe in Paris, France. They are also very popular in the U.S. having performed in 23 states for many events and ceremonies, such as the Rose Bowl Parade, the 70th anniversary of the Pearl Harbour attack, and the Orange Bowl Parade.
Each band member is strongly encouraged to give their best effort along with appreciating and supporting the efforts of all others engaged in activities with the band. BTTB's philosophy emphasizes the importance of cooperation, discipline, sportsmanship, friendship, and an eagerness to learn.
Renata Fast
March 2022 Award Citation
Renata Fast first wore the maple leaf as a member of the National Women's Development Team in 2014. She won gold with the U22 team at the 2015 Nations Cup before joining the National Women's Team at the 2015 Four Nations Cup where she won a silver medal. Following a second straight silver win at the Four Nations Cup in 2016, she made her International Ice Hockey Federation (IIHF) Women's World debut in 2017 and helped Canada gain the silver medal. She also contributed to Canada's silver medal in her Olympics debut at the PyeongChang Winter Games in 2018.
Before this, she played for the Burlington Barracudas at various levels from 2003-12 where she was named Female Athlete of the Year in the Burlington Junior programs from 2006-11; won a gold medal with the team at the Ontario Women's Hockey Association provincials (Peewee AA) in 2007; and took home the 2012 Junior Women's Hockey League Challenge Cup with the Intermediate AA Barracudas.
Her hockey career then took her to the Toronto Furies from 2016-2019 and the Professional Women's Hockey Players Association in 2019 where she advocated for better standards in women's pro hockey and played for Toronto in the 2020 and 2021 Dream Gap Tours. She was also part of Team Canada during the women's showcases at the 2019 and 2020 NHL All-Star Games.
At the 2022 Beijing Olympic Winter Games, Renata scored her first Olympic goal during Canada's semi-final win against Switzerland that helped advance Team Canada to the gold-medal game and their win against the U.S.
Emma Maltais
March 2022 Award Citation
Emma Maltais first joined the Canadian national program in 2015 with the U18 team where she competed in the 2016 IIHF U18 Women's World Championship and tied for team lead with six points in five games, helping to earn Canada a silver medal — repeating a silver finish in 2017.
Before that, she played for the Burlington Barracudas and Oakville Hornets where she added Ontario Women's Hockey Association provincials gold and silver; and Provincial Women's Hockey League championship bronze to her medal hardware. She is Oakville's all-time leading scorer with 56 goals and 150 points in 105 games.
Emma is a two-time Patty Kazmaier Award finalist (in 2020 and 2021) and the 2018 Western Collegiate Hockey Association Rookie of the Year.
At the 2022 Beijing Olympic Winter Games, Emma scored her first Olympic goal during Canada's semi-final win against Switzerland that helped advance Team Canada to the gold-medal game and their win against the U.S.
Jean Longfield
October 2021 Award Citation
Jean is so well known in our city for her tireless efforts creating and leading The Gift of Giving Back. She's also just as well known for her beaming smile and unlimited positive energy.
Founded in 2005, and the brainchild of Jean herself, The Gift of Giving Back is a program that inspires, supports, educates and empowers the children of our community to give back to the communities they love and are privileged to live in through local minor athletics associations and school systems.
Community events and food drives are held throughout the year in multiple communities across the entire Greater Golden Horseshoe Area, benefiting local partnered agencies like food banks who help those in need. Their mission is to demonstrate the lasting, positive impact we can all have through the power of giving back. As the largest community food drive of its kind in Canada, their efforts have resulted in more than 4.6 million pounds of food collected and donated since inception — and that has had a direct community benefit of more than $1.8 million.
Lisa Lunski
October 2021 Award Citation
Lisa is a champion for our community who truly lives the "nobody left behind" philosophy in her words and actions. Her work over the past decade in building the Friday Night Community meal bag program at Wellington Square United Church positioned that program to be a vital support when we were faced with an unexpected global pandemic.
Her work through Wellington Square Church is not where her impact ends. Lisa has been a member of our Burlington COVID-19 Task Force throughout the pandemic, contributing ideas and solutions to this group of local leaders to ensure we are aligned in our efforts to help our community through this challenging time.
Lisa also uses her extensive network of social support superstars to advocate for affordable housing, food security and positive social change. Her contributions to our community have also been recognized by the Women of Distinction Pandemic Innovator award she received earlier this year from the YWCA — and deservedly so.
Kendall Cooper
December 2020 Award Citation
Kendall Cooper is a multiple medal-winning hockey player from the Aldershot community who, last year, received the Aldershot Honour Roll's youth award and at age 16 was part of the gold medal winning team in Japan in Women's Under 18 Hockey where she assisted in the gold-medal winning goal, and since then became Captain of the team for 2020 and won the silver medal as captain.
Kendall is not only the first young person to receive Burlington's Key to the City, she is also the first woman to do so since this program began in early 2019.
Ian Elliott
December 2020 Award Citation
Ian Elliott is the heart and soul behind our beloved local independent bookstore, A Different Drummer Books. Having worked there since 1990, Ian is now owner and helming this unique bookshop through it's 50th year here in Burlington. With the many additional challenges businesses have faced throughout COVID-19, the continued success of a small local business is all the more meaningful.
Ian's dedication to promoting emerging authors and engendering a love of literature in people of all ages from our community is truly remarkable. Countless community events, thoughtful reading recommendations, and quiet charitable contributions are just one of many reasons this business has survived five decades and enjoys a dedicated fanbase of loyal customers.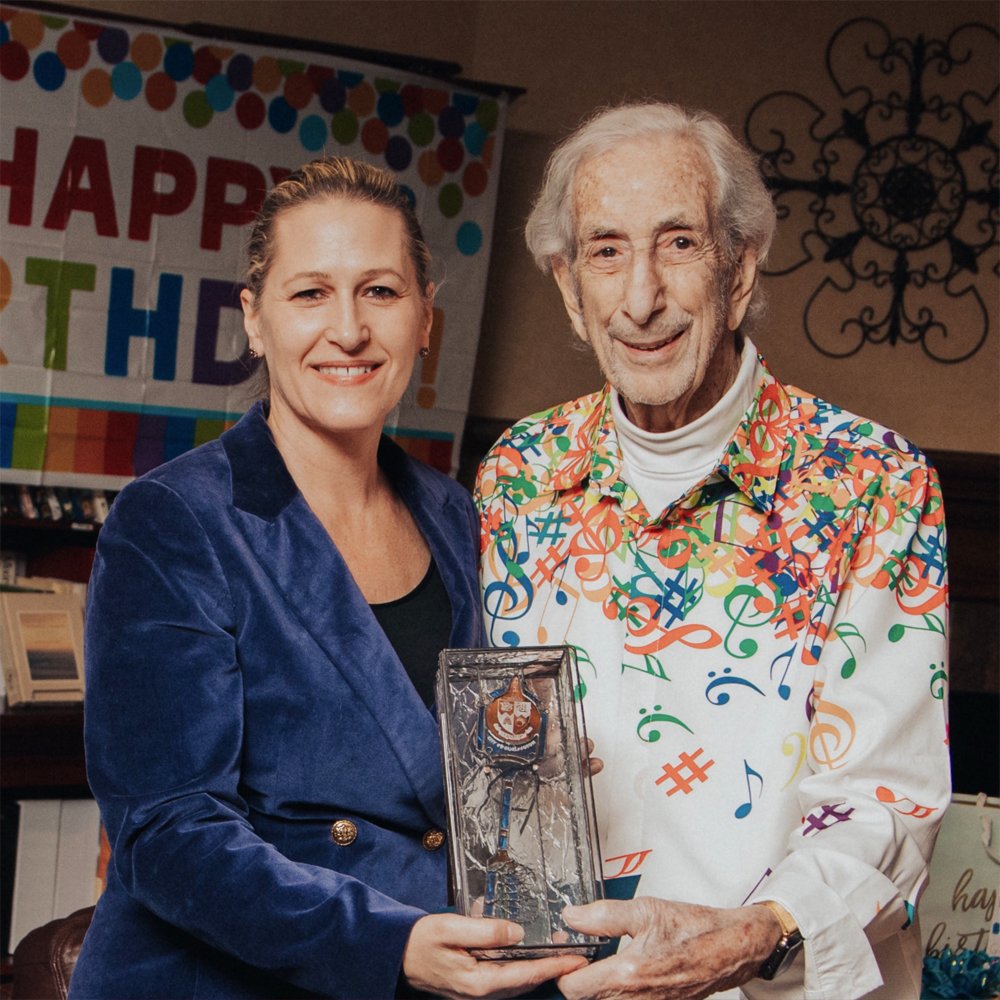 Gordon Schottlander
January 2020 Award Citation
Mr. Gordon Schottlander was born in England in 1925. On June 6th, 1944, as a commissioned officer, he landed on Juno Beach and fought bravely alongside Canadian soldiers as part of the D-Day invasion that would lead to the successful end of World War II. He later came to Canada with his wife Colleen, building a big and wonderful family here that now includes four sons, 16 grandchildren and 18 great grandchildren. He continued his contributions to community once arriving in Burlington.
His many accomplishments include President of the Junior Chamber of Commerce, Chairman of the Burlington Planning Board, serving with the Knights of Columbus for many years, Chairman of the committee that raised over $1M for the local YMCA, and being named Burlington's Citizen of the Year in 1968. He continues to make Burlington his home, living in the downtown core.
While celebrating his 95th birthday in January of this year, he was presented with a proclamation and Key to the City for his meaningful and lasting contributions.
City of Itabashi, Japan
October 2019 Award Citation
In October 2019, in recognition of the 30th anniversary of twinning agreement between the cities of Burlington and Itabashi, Japan, Mayor Meed Ward presented Itabashi Mayor Takeshi Sakamoto and the City of Itabashi with Burlington's Key to the City.
The presentation was made during a trip by an Official Burlington Delegation to Itabashi. As part of the dual exchanges that occur in the twinning relationship, both cities send reciprocal official delegations to each other every five years as a way of fostering world peace and global understanding.
Mike 'Beard Guy' Taylor (Posthumously)
January 2019 Award Citation
In January 2019, Mayor Meed Ward announced the launch of a new Key to the City program for the City of Burlington to honour individuals and organizations who have made significant contributions to the community. The recipient of the inaugural Key was announced to be, posthumously, Mike Taylor of Walk Off the Earth (WOTE) for the impact he made on Burlington's arts and culture scene with his talent, music and community involvement.
Mike passed away in December 2018. It was a devastating loss for his family, bandmates, fans and our city. Mike made Burlington his home and we thank him for his contribution to music both locally and around the world. Mike and WOTE helped put Burlington on the map and he will be truly missed. Acting as a musical ambassador, Mike not only advanced Burlington's local culture across the country with his band, but right here in our own community.